Dental Implants in Shelby Township, MI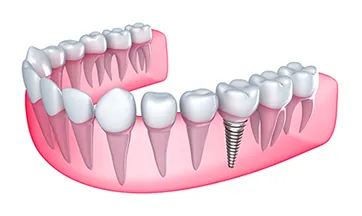 Dental implants are the revolutionary, state-of-the-art tooth-replacement option that can save your smile. They provide many benefits that are unmatched by traditional tooth replacement solutions like bridges, partials, or dentures. Sood Family Dental in Shelby Township, MI, wants you to know more about dental implants and what they can do for your smile.
Implant Procedure
The bottom part of the implant, which looks like a screw, is placed in your jaw during a simple in-office procedure. The screw is made of titanium, a material that is biocompatible, meaning your body won't reject it. In fact, over time your body will grow more bone to fuse with the dental implant. The implant screw becomes firmly embedded in your bone and won't move.
Once the implant screw is firmly embedded and your tissue is fully healed, Dr. Sood will place a natural-looking dental implant crown on top of the screw. You now have a new tooth! Dental implants can replace one or more missing teeth. They can also provide a supportive framework for a denture, which is snapped in place over the implants.
There are many reasons why dental implants are preferred over traditional bridges, partials, or dentures. These are just a few:
-Dental implants look completely natural
-They can be cleaned by simple brushing and flossing
-Implants won't ever move around
-Dental implants can last throughout your lifetime
-They won't ever decay and they resist stains
Another important benefit of dental implants is that they also help you retain the youthful fullness and contours of your face, especially your firm jawline. Your body produces more bone to fuse with the implant and the increased bone production fills out your facial contours. You won't have the sunken, sagging look of someone who wears dentures for a long time.
Do you need Dental Implants or would like to learn more?
Then call Sood Family Dental (586) 207-1471
for more information or to book an appointment!
Articles Related to Dental Implants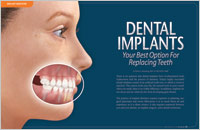 Dental Implants – Your Best Option For Replacing Teeth Dental implants have many advantages over older methods of tooth replacement like bridges and dentures — from the way they function and feel to the way they look and last. Vigorous research has documented and confirmed that in the right situations, dental implant success rates are over 95%. It is no exaggeration to say that they have revolutionized dentistry. They may even change your life... Read Article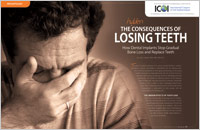 The Hidden Consequences of Losing Teeth For those missing even one tooth, an unsightly gap is actually the least significant problem. What's of far greater concern is the bone loss that inevitably follows tooth loss. Dental implants can preserve bone, improve function and enhance psychological well-being. Learn how implants serve both as anchors to support replacement teeth and preserve bone... Read Article