Posts for tag: veneers
By Sood Family Dental
December 01, 2015
Ever wonder how Hollywood stars achieve those flawless smiles? They're not lucky - most of them have had cosmetic dental work to
improve the color, shape and size of their teeth. Most often, dental veneers are responsible for these amazing transformations. It might surprise you to learn that the same techniques used on today's brightest stars are also available in Shelby Township, Michigan at Sood Family Dental. Dr. Shikha Sood offers more information on veneers here:
What are veneers?
Veneers offer a quick, but totally personalized solution to a flawed smile. They are sections of porcelain, often as thin as a contact lens, that are shaped to look exactly like the visible surface of a tooth. They are cemented to the front of your natural teeth by your Shelby Township dentist Dr. Sood. With proper care, veneers can last a decade or more.
What types of problems do veneers fix?
No other dental restoration is as versatile as veneers. They flawlessly cover up stains that are resistant to whitening, giving the wearer a brightened smile. Veneers also mask any small gaps, chips or cracks that your teeth may have sustained over the years. The appearance of misshapen or "short" teeth are also improved by veneers. People who consult Dr. Sood on cosmetic dental matters usually have more than one issue, making veneers the most comprehensive solution.
How are veneers applied?
The process of veneers can take up to three appointments at Sood Family Dental. You and your Shelby Township dentist will start by discussing your goals for a new smile. Careful measurements will be taken of your teeth using the latest in dental imaging technology; these will be sent to a laboratory that will create your veneers one by one. At your next appointment, Dr. Sood will lightly buff your teeth so the veneer can be affixed properly. At this time, your veneers may be placed or, if they haven't been finished yet, you may need to make another appointment for placement.
Ready to brighten, whiten and totally transform your smile? Call Sood Family Dental today to set up a consultation with our dentist, Dr. Shikha Sood, and get ready for a pleasant surprise each time you glance in a mirror!
By Sood Family Dental
May 19, 2014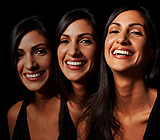 Q: What exactly are porcelain veneers?
A: The term "veneer" usually means a very thin covering that's designed to improve the way a surface looks. The porcelain veneers we use in cosmetic dentistry are just like that: They cover up flaws in the natural teeth, while preserving their strength and vitality. Porcelain veneers are wafer-thin layers of super-strong material, which are bonded to the front surfaces of the teeth. Once placed on your teeth, they offer a permanent way to improve a smile that's less than perfect.
Q: What kinds of smile defects can porcelain veneers fix?
A: Veneers can help with a whole range of issues, including:
Color: Teeth that are deeply stained or yellowed — even those which can't be lightened with professional bleaching — can be restored to a brilliant white (or a natural luster) with porcelain veneers.
Shape and size: If your teeth have become worn down with age, or have chips or roughened edges, veneers can restore them to a more pleasing shape. They can also lengthen teeth that appear too short, for a dramatic enhancement of your smile.
Alignment and spacing: For closing a small gap between teeth or making other minor adjustments in tooth spacing or position, veneers may be just what you need; more serious issues can be handled with orthodontics.
Q: What's involved in getting porcelain veneers?
A: First, we will talk with you about what aspects of your smile you'd like to improve, and develop a plan to accomplish that. When we're all agreed, the next step will probably be to remove a small amount of tooth material in preparation for placing the veneers. (Some types of veneers, however, don't require this step.) Next, we will make a mold of your teeth and send it to the dental lab; you'll leave our office with a set of temporary veneers. In a few weeks, you'll return to our office to have the final veneers permanently bonded to your teeth.
Q: Is it possible to preview the results?
A: Yes! The options for a preview range from computer-generated images of your new smile to an accurate, life-sized model of your teeth with veneers applied. It may even be possible to make acrylic "trial veneers" that we can actually place on your teeth to try on! So if your smile could use a little help, ask us about porcelain veneers.