Posts for: February, 2015
By Sood Family Dental
February 12, 2015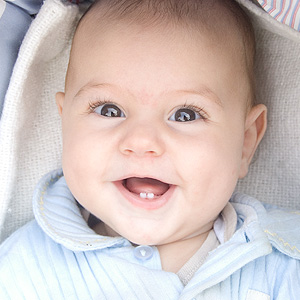 For a lifetime of healthy teeth and gums, it takes a lifetime of personal and professional care. Starting your child's daily hygiene with the first tooth eruption is a must; but you should also consider beginning regular dental visits in their early years, around or before their first birthday.
There's evidence that early dental visits hold a number of benefits that could lead to reduced oral care costs over their lifetime.
Familiarity with professional dental care. Children need to feel comfortable and safe in their surroundings, especially new places. Beginning dental visits early improves the chances your child will view the dentist's office as a regular part of their life. It's especially helpful if the dental professional has training and experience with young children to put them at ease.
Early monitoring for dental disease or other problems. A young child's teeth are highly susceptible to tooth decay. Dental visits that begin early in a child's life increase our chances of detecting any developing dental problems early. In addition to treating decayed teeth, your child may also need preventative actions like sealants or additional fluoride applications to protect teeth if they are at a higher risk for disease. As the child develops, we may also be able to catch early bite problems: with interventional treatment, it may be possible to reduce future orthodontic costs.
Parental help and support. As we discuss your child's dental care with you, we'll be able to provide essential information and training for how to care for their teeth and gums at home. We'll also be able to ease any common concerns you may have, such as thumb sucking or other oral habits, as well as give you sound advice and techniques for dealing with these problems.
As with other areas of childhood development, starting off on the right foot with oral care can make all the difference to their future dental health. The sooner you begin regular dental visits with your toddler, the better their chances for a lifetime of healthy teeth and gums.
If you would like more information on dental care for children, please contact us or schedule an appointment for a consultation. You can also learn more about this topic by reading the Dear Doctor magazine article "Taking the Stress out of Dentistry for Kids."
By Sood Family Dental
February 03, 2015
If you place a high value on your personal appearance as most people do, chances are that improving the whiteness of your teeth is at the top of your list of to-dos. There are a few questions that commonly come up when patients are interested in teeth whitening services from Dr. Shikha Sood, a trusted Shelby County cosmetic dentist. Her practice is always on top of the latest trends in dentistry and happy to provide patients with the dental information that they need.

How Long for a Whiter Smile?
You may be pleasantly surprised to learn that getting a professional in-office whitening takes about an hour or two. In just one appointment, Dr. Sood can improve the shade of your teeth by up to eight shades. She uses a professional strength whitening solution and tools to quickly and thoroughly brighten your smile.

Are There Any Risks?
Tooth whitening is a safe and effective dental service. One possible issue to be aware of is the possible irritation of the gums, which sometimes occurs in patients who have gum sensitivity. The high concentration of hydrogen peroxide can cause mild inflammation of the gums, which is why your Shelby County dentist will take special care to protect them during your teeth whitening appointment.

How Long Does Whitening Last?
Another common question that patients have is how long they can expect to enjoy the effects of a whiter, brighter smile. Depending on how you care for your teeth, the whitening effects can last for two years or longer before another appointment is necessary. Make it a point to protect your teeth from foods and beverages that can cause staining and discoloration.

Whiter Teeth Today
Having a better looking smile can give you the confidence that you need to thrive in life, whether it's at work or when socializing. If you're a Shelby County resident who is finally ready to receive the whiter smile of your dreams, contact the office of Dr. Shikha Sood for a teeth whitening consultation at (586) 207-1471.