Posts for: April, 2014
By Sood Family Dental
April 17, 2014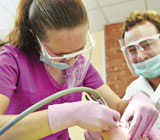 In dentistry (as well as other branches of medicine) pediatric conscious sedation is becoming more widespread than ever — but some people aren't yet familiar with this beneficial therapy. Conscious sedation can remove anxiety and produce a feeling of calm and relaxation during dental treatment; however, unlike general anesthesia, it doesn't cause the loss of consciousness. That means patients can still breathe normally and can respond to certain stimuli, while feelings of pain and anxiety are blocked.
Conscious sedation is often employed for invasive procedures such as tooth extractions or root canals — which cause some people a great deal of apprehension, no matter what their age. It can be especially useful for children, however, who may have a more limited ability to understand (and cooperate with) their dental treatment. Because the medications are commonly administered orally (by mouth), there's no needle to provoke fear. And when it's over, there is usually little or no memory of the procedure that was done.
Pediatric conscious sedation is typically administered in an office setting by a dentist with special qualifications. The American Dental Association, the American Academy of Pediatric Dentistry, and the American Academy of Pediatrics have jointly established criteria for its use. Specialized training and continuing education are part of the qualification process; additionally, the dental office must be equipped with advanced life-support equipment and trained staff, who can help in the unlikely case of an emergency.
While your child is receiving conscious sedation, he or she will be monitored by a designated staff member who keeps a close watch on vital signs like blood pressure, oxygen levels, pulse rate and respiration. This helps to ensure that the level of sedation remains safe, yet effective. When the procedure is over, the medications wear off quickly; however, children will certainly need a ride home, and shouldn't return to school until the next day.
As new medications are developed, more dentists receive special training, and the cost of associated equipment becomes more reasonable, the practice of pediatric conscious sedation is becoming more widespread. For many kids, it could mean the difference between having fearful childhood memories of the dental office that linger on through life — and remembering almost nothing at all.
If your child has dental anxiety or requires invasive procedures, pediatric conscious sedation may be a good option for you to consider. For more information, call our office to arrange a consultation. You can learn more in the Dear Doctor magazine article "Sedation Dentistry for Kids."
By Sood Family Dental
April 02, 2014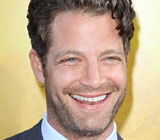 As one of America's most beloved go-to guys for inspiration on the latest interior design trends, Nate Berkus has written a highly successful book, Home Rules: Transform the Place You Live Into a Place You'll Love; he is a contributing editor to O Magazine; and he is currently hosting his own television program, The Nate Berkus Show. He is also recognized for his eye-catching smile.
During a recent interview with Dear Doctor magazine, Berkus opened up about the facts behind his trademark smile. While his smile is all-natural — he never wore braces or had any cosmetic work done — he gives credit to his childhood dentist for the preventative healthcare he received as a young boy. "I'm grateful for having been given fluoride treatments and sealants as a child," he said. Nate also shared the important flossing advice he learned from his dentist that he still follows today: "Floss the ones you want to keep."
Why is flossing so important?
Flossing is crucial because it remains the most effective method for removing plaque from between teeth, where the toothbrush can't reach. It is also an important part of keeping your gums healthy so that you can avoid periodontitis (gum disease). You should floss at least once a day either before or after you brush your teeth. If you see blood after flossing, it may indicate that you have periodontitis, or it may mean that you are flossing too harshly. Remember, you need to use a delicate hand and a proper technique when brushing and flossing to avoid damaging your teeth and gums.
To learn more about flossing, including step-by-step instructions with photos, you can continue reading the Dear Doctor magazine article "Flossing — A Different Approach." Or you can contact us today to schedule an appointment so that we can conduct a thorough examination, review your brushing and flossing techniques, and discuss any questions you have as well as treatment options. As needed, we will work with you to teach you the proper brushing and flossing techniques so that you feel confident before you leave our office. And to read the entire interview with Nate Berkus, please see the Dear Doctor magazine article "Nate Berkus."